Page 40 - TYM 2023-2
P. 40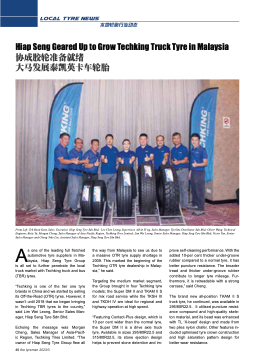 Hiap Seng Geared Up to Grow Techking Truck Tyre in Malaysia


 From Left: Teh Boon Keat, Sales Executive, Hiap Seng Tyre Sdn Bhd; Lee Chee Leong, Supervisor, Allvin H'ng, Sales Manager, Tyreline Distributor Sdn Bhd; Oliver Wang, Technical                            Sales Manager and Chong Yoke Lin, Assistant Sales Manager, Hiap Seng Tyre Sdn Bhd.
A       automotive tyre suppliers in Ma- laysia, Hiap Seng Tyre Group is all set to further penetrate the local truck market with Techking truck and bus (TBR) tyres.
"Techking is one of the tier one tyre brands in China and we started by selling       wasn't until 2018 that we began bringing in Techking TBR tyres to the country," said Lim Wei Leong, Senior Sales Man- ager, Hiap Seng Tyre Sdn Bhd.
Echoing the message was Morgan Cheng, Sales Manager of Asia-Pacif- ic Region, Techking Tires Limited. "The        
40 the tyreman 2023/3
the way from Malaysia to see us due to a massive OTR tyre supply shortage in 2009. This marked the beginning of the Techking OTR tyre dealership in Malay- sia," he said.
Targeting the medium market segment, the Group brought in four Techking tyre          for mix road service while the TKSH III and TKDH IV are ideal for regional and highway operation at high speed.
"Featuring Contact-Plus design, which is 10 per cent wider than the normal tyre, the Super DM II is a drive axle truck tyre. Available in sizes 295/80R22.5 and 315/80R22.5, its stone ejection design helps to prevent stone detention and im-
prove self-cleaning performance. With the added 10-per cent thicker under-groove rubber compared to a normal tyre, it has better puncture resistance. The broader tread and thicker under-groove rubber contribute to longer tyre mileage. Fur- thermore, it is retreadable with a strong carcass," said Cheng.
The brand new all-position TKAM II S truck tyre, he continued, was available in 295/80R22.5. It utilised puncture resist- ance compound and high-quality skele- ton material, and its bead was enhanced with TL 'X-bead' design and made from two plies nylon chafer. Other features in- cluded optimised tyre crown construction and high saturation pattern design for better wear resistance.